Products
Quick View
04663 M/D WATER HEATER BLANKET
    
SKU#: 5922166
Water heater insulation blankets are designed for gas, oil or electric heaters. White vinyl backed fiberglass blanket. Includes adhesive tape for easy installation.
Quick View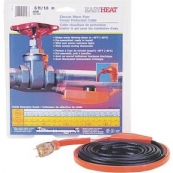 AHB-016 6FT ELECTRIC HEAT TAPE
    
SKU#: 6836597
Temperature - Controlled Cable Runs Straight Along Pipe And Valves, Held In Place By Application Tape And Plugs Into Grounded Electrical Outlet. Keeps Water Flowing To -40.